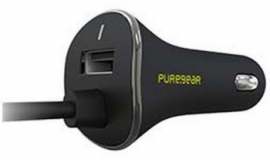 PureGear 24W Black Single USB VPA Car Charger w/ Attached USB-C Cable
Key Feature
USB-C Connector head.
Conveniently charges 1 additional device via USB Port.
24W/4.8A total output.
Charges any tablet and any phone.
USB port charges Bluetooth headsets, portable gaming systems, GPS units, and more with compatible USB cables (not included).
Aucun produit connexe n'a été trouvé pour cet appareil ou accessoire.
Les spécifications n'ont pas encore été ajoutées.