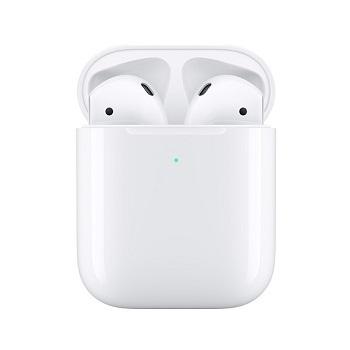 Apple AirPods with Wireless Charge Case (White)
The Apple AirPods are a remarkable audio accessory that's likely to change the way you think of headphones forever. Extremely easy to use; the AirPods instantaneously power on and wirelessly connect to your Apple device upon removing them from the
Charging Case
. By means of a motion accelerometer and optical sensors; audio begins to play automatically once the pods are placed in your ear and cease playing the moment you take them out. Featuring a built-in mic, double-tap the AirPods to call up Siri and adjust volume, change a song, make a call or utilize any of Siri's services.
The speakers inside Apple AirPods have been engineered to minimize sound loss and maximize sound output. The result being superb sound quality and a snug fit that's perfect for fitness enthusiasts.
Feature Highlights:
Designed by Apple.
LED Charge indicator.
Deeper, richer bass tones.
Wireless Connection.
Includes wireless charging case.
Greater protection from sweat and water.
Control music and video playback.
Answer and end calls.
No associated products found with this device/accessory.
Specifications have not been added yet.